Apple showed the way with its App Store, now everybody want its exclusive e-shop. A late, yet big player in the game is SONY extending its PlayStation Network Store to the independent game developer community. A few month ago Sony started to distribute its PlayStation Suite SDK under a new name PlayStation® Mobile SDK. The suite include everything needed to develop a game from a flash-style mini web-game to a AAA blockbuster. It target mainly the mobile devices of the PLayStation hardware: PSP, PSP Vita and Playstation-certified Android based mobile. Well, it rocks.
Beyond the suite we can find a strict guidance and a license to be able to test on device or to publish on the PSN Store. This follows the path of Apple in its developer guideline for a better consistency and quality of product. The production pipeline by itself is impressively easy. The SDK is more like a no GUI game engine than a real language framework. Using exclusively C# as a native language every heavy duty or low level task are done by the suite itself. So the first feeling is that developing on the PSM SDK looks like developing with the Adobe Flash technology. And we can guess here a marketing move to get more of those independent developer porting their game to the PSN.
Sony use the open source OpenGL Library for its mobile graphic renderer. The library is wrapped by the PSM API. An other feature of the SDK is the GUI Composer application wich get the production pipeline even closer to its Flash counterpart.
Here is the point, it would be interesting to know how hard is it to port a web based game to its PlayStation version. Especially HTML5 game which would open an opportunity for all the social game already created out there. Of course there is no HTML renderer included in the SDK but social game doesn't use HTML5 tricks as their are displayed on mobile. Their animation is fairly easy to port on a sprite 2D engine scenario.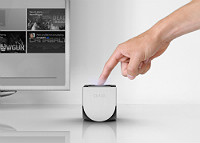 To see a more advance scenario behind the PSM SDK and the sony move, let's have a look at its Android counterpart and the OUYA hardware project. OUYA is made by the indie for the indie. But it didn't take long for major game industry player to support the project, starting with Square Enix and its Final Fantasy. The main audience still remains the same one who spend hours playing on mobile rather than console. And this audience is growing with the smartphone market, big enough to interest big game industry player as a new market and new business model.