Recently all kind of interaction between Digital and Analog appears in mass production through experimental device or interface. The potential of such technology is more dedicated to the marketing industry and its wide range of OOH interface.
The technology is based on custom print pattern that can make a capacitive sensor react in a programmed way. So communicating a message between digital and analog device such as printed magazine or card is now possible, though the process for the printed pattern are still mainly proprietary.
A basic and commercial use of this technology is introduced with the Nukotoy's 2 iPad game based on analog card communication. We've got here the basic idea of the process. The card hold a key pattern that the capacitive sensor of the iPad can read then responde.

The German based Printechnologics company provide a proprietary printing service named "Touchcode" for custom order. Target are marketing & advertisment agencies as well as DTP productor who wish to link the analog media to a digital or online companion. They also extended the pattern idea to an authentification process which may be interesting for electronic key device. Here is a video of the feature.

A more complex showcase is provided by the Ag Company and its Trica solution. The key feature here is that the card itself has an embed capacitive device which is turned on by the user. By pressing the card or interacting with it the pattern is emitted then the iPad responde. Combining card device keying system with the pattern itself open a wide range of possibility as well as security use for this interface.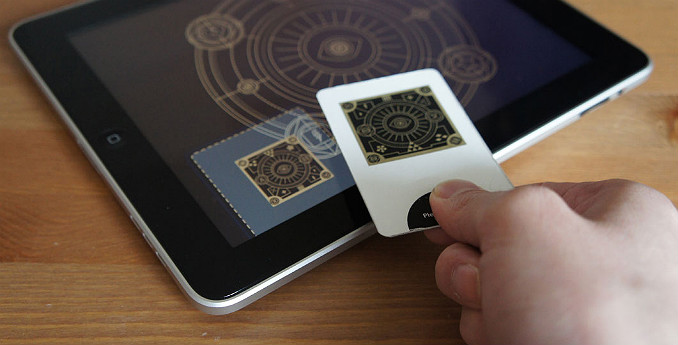 Image Copyright Ag http://agltd.jp/
At Skylink we are interested by the potential of this technology at a bigger scale. Pattern are one of the main feature of printing textile as well as architectural design. What would be interesting is to extend the idea to a full large scale panel, wall, or even building. Bare Conductive and their conductive ink Bare Painting let us see what may be possible in this field.

?????