Models in architecture have always had two purposes: sketching and prototyping. Though the two goals appear to be quite similar, a shift in the project scale will contrast the two into a distinctive paradigm. Sketching has its emphasis on aesthetic and sculptural concerns, while prototyping evaluates technical solutions and estimates a better profile. Put simply: The first is for creation the second is for optimization. This gives us two vocabularies and two languages, both sharing a common goal.
One may wonder when and where this shift in scale occurs. The reply is dictated by the materials used and their structural capabilities. As the scale itself requires a specific set of structural behavior, materials will first be showcased, then prototyping will be deployed.
In the past 10 years, parametric design changed this rule slightly. Models used to be a reference where decisions were made. This is still true nowadays, except that Models are now functions. Kind of like an open data process where patterns are studied and elected, based on instant feedback and real time analysis. This is where IT science and technology helps. The data driven essence of this creative process makes it now apart of both signal processing/Analysis and media-art. With a parametric design approach the two paradigms have their counterpart in media and IT science. The creative freedom in the sketching phase will be emphasized with a procedural algorithm while the prototyping phase will optimized by computer science data solution.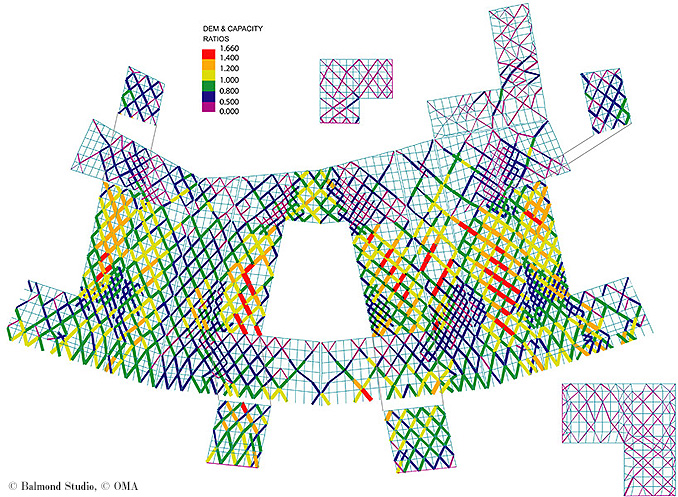 Small scale and structural limits.
Parametric design, like all other digital worlds, is out of scale. Scale is an option. Somehow, it's inner scale is more complex. A real world scale has to be set in this complexity like an attribute. Once set, the design can be output to a device. In this scope of scale, structural limits of the material is not the main issue. Urban or office furniture design rely on this to build a structurally safe shape based on procedural algorithm. The model is therefor heavily parametric as it is often executed by hand. This exercise remains more sculptural than architectural. It can even go without any software validation of the produced structure.
Medium & large scale
Once the scale get larger, parametric design gets fragmented. Limits and structural issues appears everywhere. Economic constraint adds to this fragmentation. The workaround of this fragmentation is to abstract material matters and run parametric design in the pure space of geometry. On top of this, structural workarounds are explored and real world solutions are developed. Next comes a skinning process, running its own parametric design, and is deployed over this structure.
Depending of the project, the skinner may be from a specialized third company. They have to follow the main design while dealing with their own skin structure and factory provided materials. It is during this skinning process that the pattern and tiling are parametrically optimized. Some studio deploys in-house solutions to manage from large scale parametric design to small scale detail skinning. Other studios use collaboration, communication and partnership. Strategy and management of this granularity remains in the economic scope of the project.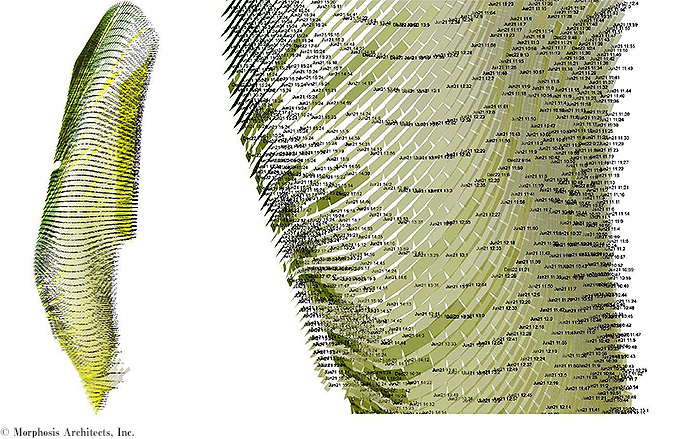 BIM and its BIG DATA
From a data point of view, the open state of the procedural design makes it a good candidate for IT science and art. Data and process optimization, geometry solution, analysis and simulation have been deployed in a wide range of computer industries for decades. Beyond parametric and procedural design is the door opened by algorithms to a more granulated understanding of architecture. To understand this idea let's take a look at the parallels between Architecture and 3DCG real-time production. Game studios manage their own geometry process and their own data structure in a very flexible, effective and optimized way. Parametric design brings the first step in this creative management workflow. As far as architecture as a data driven process, it will merge with IT science, hopefully for the best.