Microsoft may be late in the smartphone and tablet development it learn fast, both from iOS and Android, then catch up quick. The next version of WINDOWS OS 8 will be exclusively focused on a smash-up between desktop PC and mobile device. Thanks to their "Metro Style Apps", a consistent app ecosystem including all range of devices, resolution and technology, WIN8 will become suddenly a main player in the Apps & WebApps market.
Snap of a RSS Reader test in javascript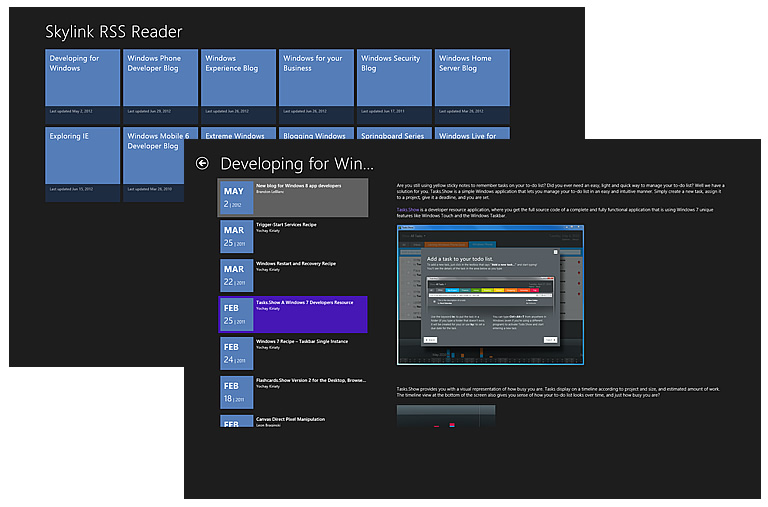 From a developer point of view, Metro Style Apps can be developed from scratch by an IT scripter or by a confirmed typical dekstop programmer. This means that everybody can develop Metro Style Apps without any heavy learning curve on spot. Any HTML5 website or webApps can also easily be ported to its WIN8 Metro Style version and run as close as a native application.
In this post we tried the two approach of developing Metro Style Apps. The HTML5 and the C++ pipeline. It happens that the design stage of the development become more tricky than the coding stage. First because of the range of resolution starting with a 1024×768 tablet size screen to the over sized 2560×1600 desktop HD screen. Developing an Metro Style App is all about complying with the Microsoft set of design rules that make its consistency.


Content focused Apps are much more easily approached by the IT experience than the usual GUI programming experience. Website are all about design and Apps just add functionality to it. So Metro Style Apps are obviously social oriented or cloud oriented. More critical, graphical or heavy task might be better designed by their large scale programming counterpart. But the edge between those two world are getting more and more blurred. Is this may be called Web3.0?