Dedicated to advanced technologies, the first entertainment oriented salon has opened its doors this last July 1st for 3 days of media related solutions by some hundred of companies in Japan, mainly from Tokyo. Our overall feeling is that nothing really new have been showcased. Tons of solutions were direct implementation of 1~2 year old imported SDK on small prototype, software or hardware. But let's be fair, this exhibition wasn't about R&D so yes, in terms of services, there were some "new" feature introduced. Here are a few which caught our eyes.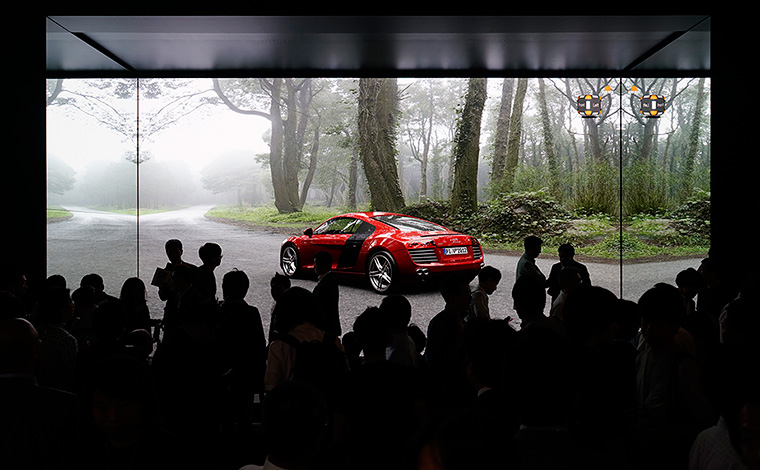 Real-time product and archviz based on PBR rendering were broadly present. Interactive demo showing in-context product or mansion were convincing and confirm that game engine are taking the visualization industry by storm. Many demo where also running on the Oculus RIFT but an interesting one introduced a scale 1:1 projection of the product, a sport car Audi R8 as seen on the photo above. The scale 1:1 factor was there a powerful immersive vector. The UX of this solution was quite convincing.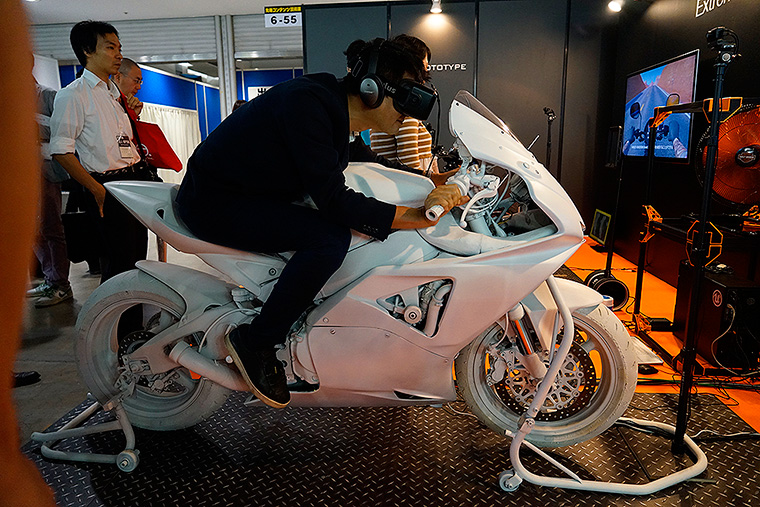 © prototype
As said above a majority of company showcased Oculus RIFT based solution, mainly directly compiled from the Unreal Engine or Unity3D. Game and archviz were the two main contents. We were somewhat expecting something "new" build on the top of the RIFT which SDK is 2 years old now. So no physical computing system synchronized to the RIFT were showcased, excepted maybe the "wind" feedback on a race bike demo where air fans helped the immersion of the player (see photo above).
An interesting field of demo were dedicated to VR-ready panorama shooting and HDR device. What make the solution appealing is that the 4K video stream can be used to shoot VR-device-ready scene where the viewer would be free to look 360 around. Then, for a PBR rendering the same shot can be used as environment map lighting for accurate 3DCG for the same scene.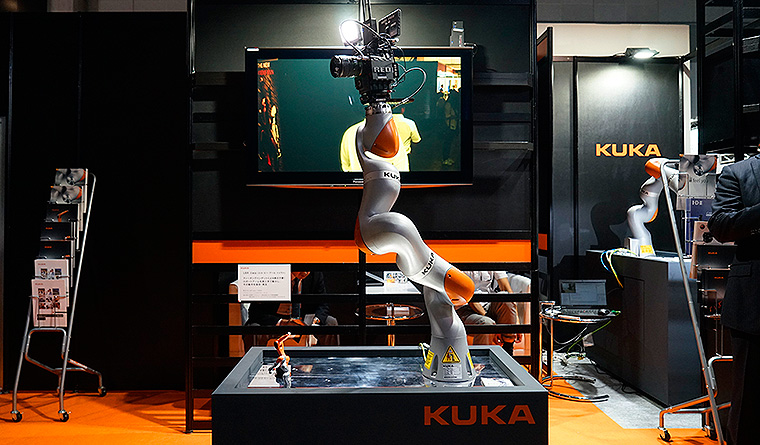 © Kuka Robotic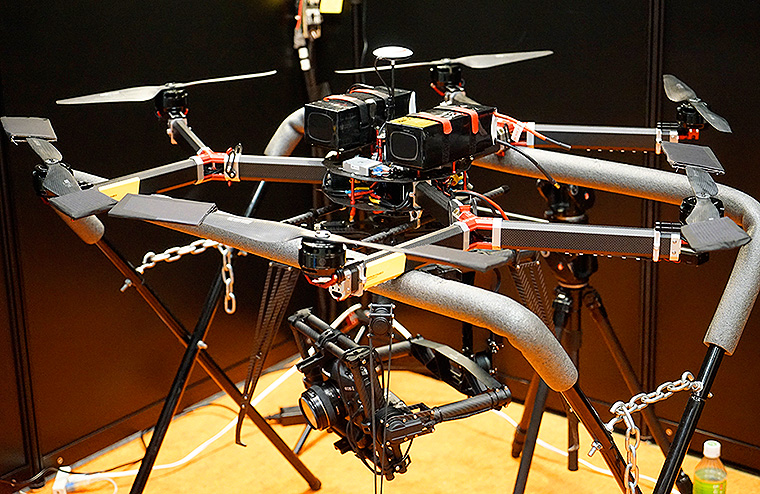 © 東京ドローン
Invasion of the Drone. Camera Operating solution where widely about drone system. Then also the famous industrial robot mounted camera solution showcased by Kuka Robotic. Drone based camera operating is somewhat an art by itself: 2 persons are needed, the pilot and the remote cameraman. While we saw a lot of devices ranging from toy size scale to heavy Hollywood size solution, we didn't experience any result movie so we have to relie on internet for probe of concept about its quality.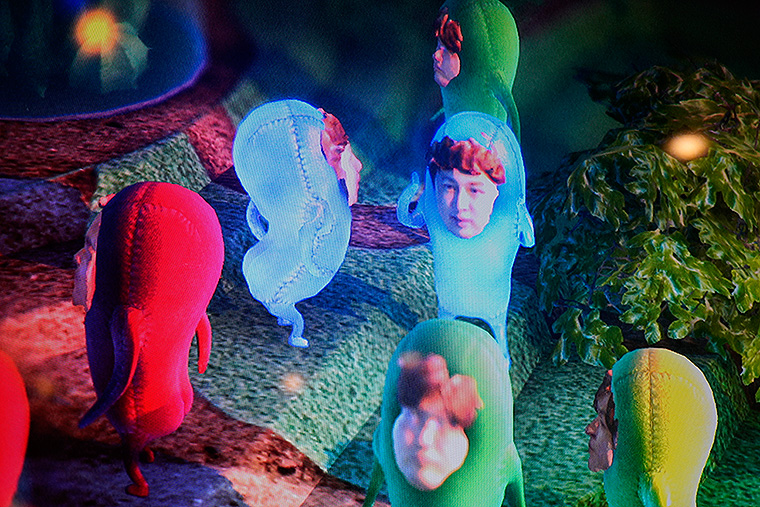 © daisy
An interesting solution was about using a Kinect to create on the fly real-time 3DCG accurate and meshed face avatar of the user. Then the resulted CG was smoothly injected in a 3D game demo. While nothing is really new here, the service was nicely implemented, mainly due to the generated mesh.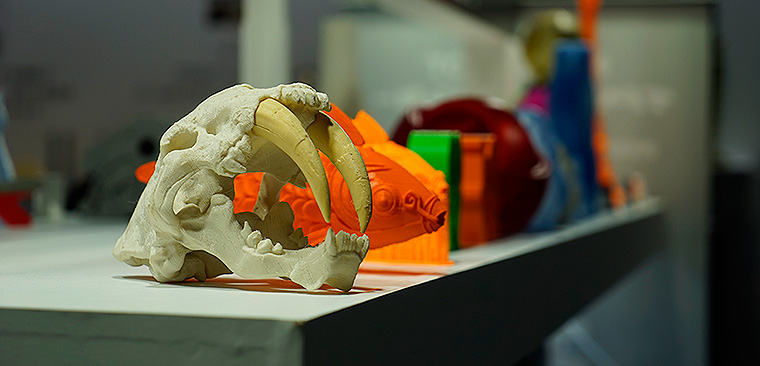 © makerbot
3D printer get bigger volume and more precise sampling, allowing real industrial design prototyping ranging from shoes to medical model at scale 1:1.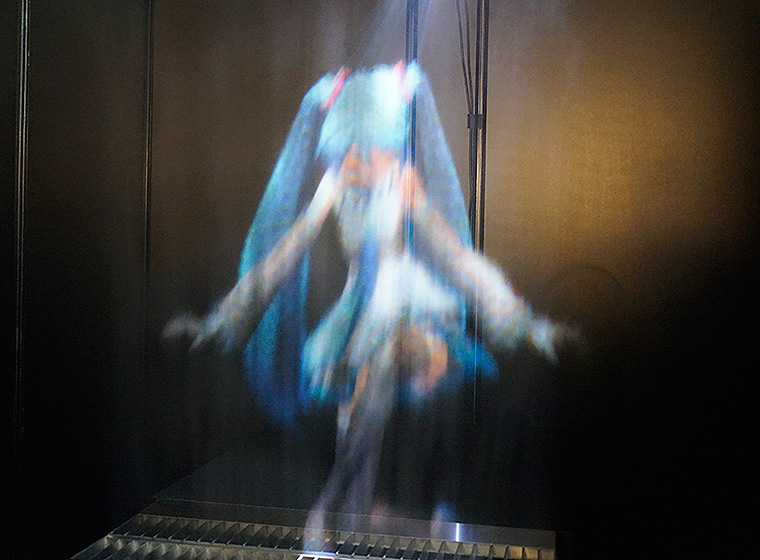 © Crypton
We will let holographic or AR solution for this time. We haven't seen significant progress in those field and even if Epson was showcasting its new Moverio we can hardly figure out how the added options will survive the failure of Google Glass. Wearable computing didn't have any strong presence in the show. Which is somewhat strange as it is one of the main vector of the IoT paradigm and only a few exhibitor introduced some IoT solution: NTT-Software showcased its Mobicollet monitoring solution and Forum8 showcased several IoT related devices mainly for BIM and building simulation oriented market.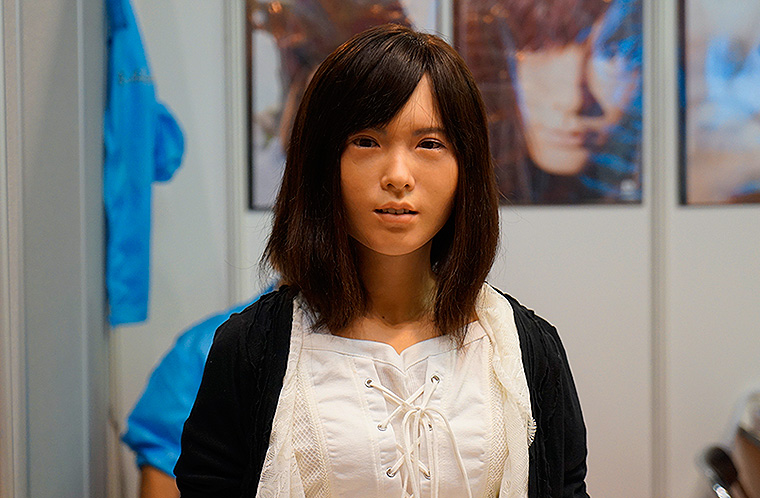 © A-Lab
We found that the even somewhat clumsy but yet realistic human android Asuna by A-Lab was bringing something to the MMI scene. While android based human-to-machine interface is yet weird to say the least we have to forecast the technology 10 years ahead from now to grasp the merit of its actual trial-and-error development. The Miraikan museum dedicated to future technologies also showcases research from several Japanese universities about android interface.