We would like to spent a little time on the Microsoft Azure Machine Learning Studio cloud service. From a Solution Architecture point of view the cloud service is ahead of what we may expect from such a high level data processing & analysis industry. The solution focus on consistency, a directive that has proved its efficiency with the Apple product line, and user experiences across software and hardware. The 4 basic process steps are the following:
"Experiment" by graphically dragging and dropping several models at a time on a canvas using dummy sample data as starting point for sketching. This allows a quick on the fly benchmark between several models at once.
"Train and refine" the model using the MS cloud computing power.
"Build a Web Service" on the top of the previous steps once ready, then fine tuned the custom service with a corresponding API.
"Build native Client Apps" with whatever flavor of Ms Studio or language depending on the desired target.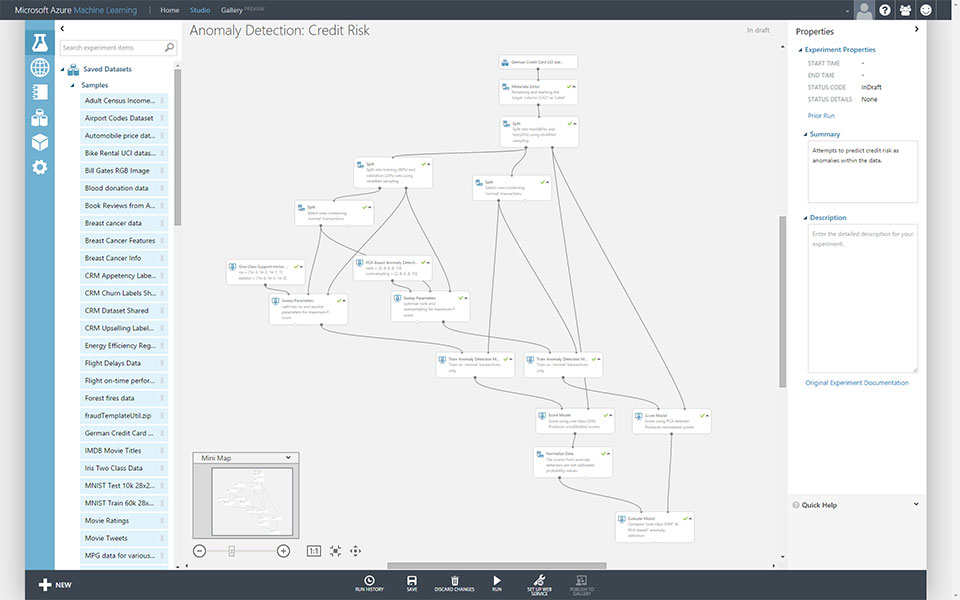 © Microsoft | Sketching models.

© Microsoft | Data & Score visualization.
© Microsoft | Web API & Produced documentation.
Each step is highly UX focused in the MS "modern" design directive prioritizing clarity and simplicity. While custom code can be implemented in R or Python, the main sketching rely on node programming and parameterization. While the limit of a such model might confront itself with the degree of structuration of the data, it works perfectly well on structured data and do let the customer focus on what matters: the analysis. This is where the templates, samples, market style demo place are really shortening the learning curve by allowing a quick and dense dive in the model design process itself while referencing to other more experienced solutions.
yet it may not fit, in its actual state, any signal processing task based on RAW data, from IoT sensor for instance as feature extraction or denoising on such custom serialization are right now out of the range of service. However we don't see any limit in the scalability of such a solution.
While other machine learning cloud solution provider do adopt a same graphic tool UX, BigML for instance, they don't pack in a all-in-one experience from model experimentation to market/Web API for third party. This is where we do appreciate the consistency of the MS solution in its design. IBM Bluemix rely on its cloud development revision control tool Sourceforge, Amazon or Google rely on web API out of any UX context. This post is not sponsored by Microsoft, as a matter of fact the cloud service was highly praised by several business internet review, where its target lives. This leads us to the conclusion that design matters and a good cloud service is more about the "why" than the "how" it is built.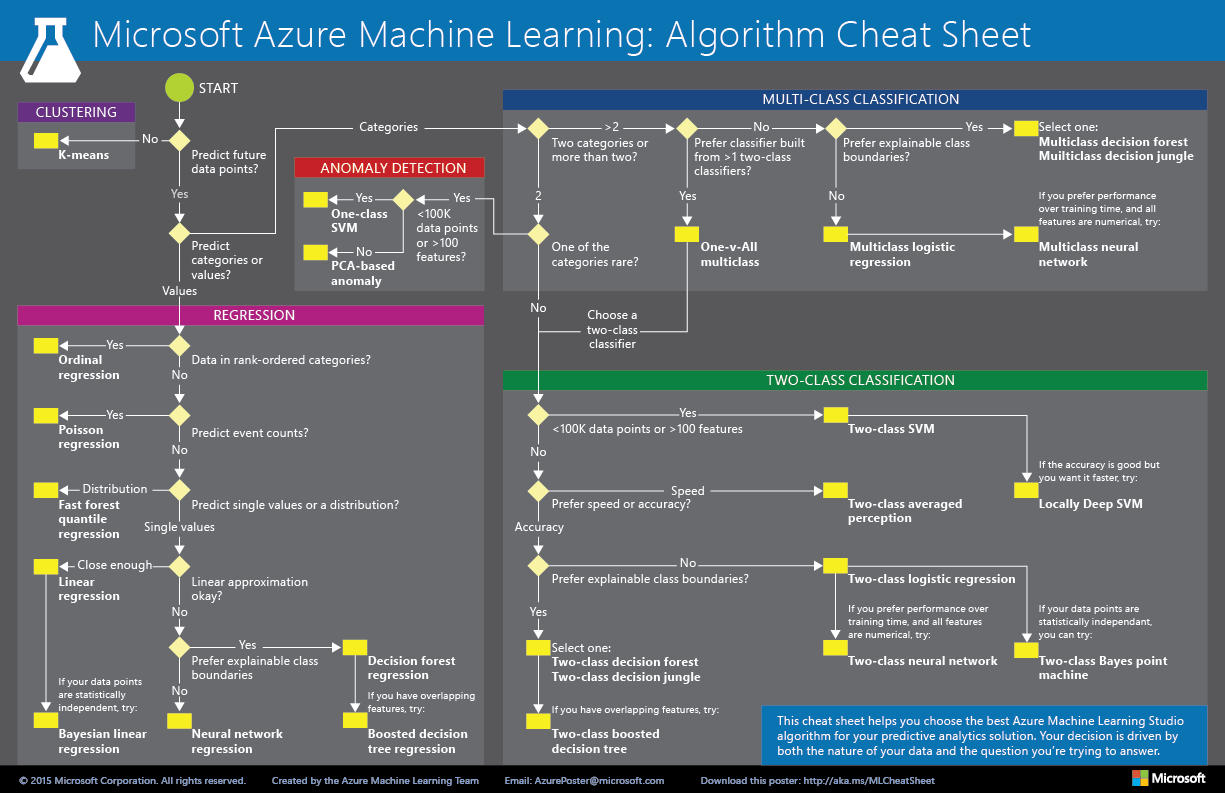 © Microsoft | MLS Algorithm Cheat Sheet.